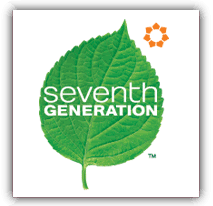 Seventh Generation wants to offer you an EXCLUSIVE sneak peek at their newly re-launched Free & Clear diapers. With the same great performance that parents have come to expect from
Seventh Generation, Free & Clear diapers
have a brand new look that makes it 'clear' what makes them so special.
What Seventh Generation leaves out is just as important as what they put in. Free & Clear diapers do not include chlorine processing, fragrances, latex and petroleum based lotions. In an effort to contribute less overall landfill waste and continue to ensure a premium standard of absorbency, the new Free & Clear diapers have been redesigned with a lighter-weight core. With processed chlorine-free wood pulp in Free & Clear diapers, Seventh Generation also makes certain that no chlorine is released into the environment during the totally chlorine-free (TCF) whitening process of the diapers and training pants.
Seventh Generation has also reduced the size of the diapers' plastic packaging, meaning that each pack now contributes even less overall landfill waste than before. In fact, Seventh Generation Free & Clear diaper packaging can now be recycled at local supermarkets where plastic bag recycling collection boxes are available.
My review:
I used the Seventh Generation Free & Clears diapers on my 20 month old daughter Brianna and I love them. They are very soft and durable. They hold up very well and we did not have any leakage. They are a plain manila color with no design so they are gender neutral. This is definitely a product that I would purchase and recommend to my friends.
You can go
here
and receive a $2 off coupon!
Seventh Generation and MyBlogSpark are giving one lucky One Haute Mommy reader a package of the new and improved Seventh Generation Free & Clear diapers!
Disclosure: Seventh Generation provided me with the free product, information, and giveaway through
MyBlogSpark
. All thoughts and opinions are 100% my own.