It's that time of the year again! Yes, Christmas is right around the corner. Shutterfly is here to make the holidays easier for you! We order our family Christmas Cards each year from Shutterfly. The quality is great, the price is very affordable, and they offer a wide variety of designs. I have already begun picking out my card design for this year. Why so early? Shutterfly offers so many designs; it's hard for me to choose! This year I am debating between the Glisten and Glow designs, Snowflake Wishes Noir design, and the Snowflake Band Black design. I change the design and color scheme of our cards each and every year. Last year I chose Merry Whimsy and I loved them. I received so many compliments on the card quality and layout! I enjoy designing personalized Christmas Cards and I love watching family and friends open them and smile. Shutterfly allows you to choose the size of the card and amount of photos on the card. You even have the option to leave a personalized message on the cards.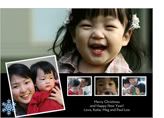 Shutterfly also offers:

Photo Gifts (such as mouse pads, photo mugs and ceramic ornaments)

Photobooks

Calandars

Why Choose Shutterfly?

Securely store your images at no cost (no expiration and no storage limit)

You can pick up prints in as little as an hour from Walgreens, CVS and Target


Get 100% Customer Satisfaction, Guaranteed!
Do you want 50 free holiday cards from Shutterfly? Click here to visit Shutterfly for more information on how you can get 50 free cards this holiday season.

This post is part of a series of sponsored by Shutterfly.