I am pleased to announce that One Haute Mommy will be featuring a review and giveaway from Isle of Eden during Santa's Little Bloggers. Isle of Eden offers gourmet body scrubs, body crème, hair detangler, hair conditioner, and many other products in a wide variety of scents.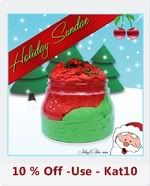 The generous folks at Isle of Eden have given me a few special discount codes to offer to my readers:

You can use the code Kat10 for 10% off your entire order. You can also use the code Shop25 (for a limited time). You can combine both codes for a total of 35% off your entire order and shipping is only $5. You cannot combine any other offers with the two codes listed above. The maximum discount is 35% off. Happy Shopping!

I will be posting my review and giveaway for Isle of Eden so stay tuned!