The holidays are here and what better gift to give your loved ones, than the Yantra Mat. What is the Yantra Mat? The Yantra Mat is an acupressure mat. The Yantra Mat has from 8,820 effective acupressure points. When lying on the Yantra Mat, all of these contact points equally distribute your weight for comfort and effectiveness.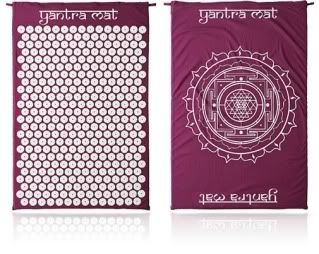 When I first looked at the Yantra Mat, I was skeptical. The spiked flowers are sharp to the touch so I assumed it was going to be uncomfortable or hurt, but it wasn't. I have been wearing a t-shirt when using the Yantra Mat and this creates a layer between my skin and the mat. I began using it for 10 minutes each evening (as directed) and it is very relaxing. I use it before bedtime and it seems to be helping me wind down. I also have lower back aches and the mat seems to be alleviating those as well. I am quite impressed with the mat and have been enjoying using it.

The Yantra Mat is available in 3 colors (green, purple and black) and 3 sizes (small, medium and large). The spiked flowers are made of 100% ABS plastic. The Yantra Mat comes with a carry bag.

The Yantra Mat is said to have many health benefits including:

* relieving stress

* relieving fatigue

* relieving headaches

* relieving muscle tension

* alleviating back and neck pain

Wikipedia Says: "Reviews of acupressure clinical trials have been conducted… according to the protocols of evidence-based medicine; for most conditions they have concluded tremendous effectiveness in well-conducted clinical trials."

On the back of the Yantra Mat you'll notice an Indian meditation symbol, the Yantra. This word comes from the Sanskrit word yan, which means "form," and tra, which means "free." When you are not using the mat, it is recommended that you hang it up with the back side (symbol) facing you and focus on the symbol to help clear your mind. The Yantra symbol will remind you to breathe deeply and relax, even when you're too busy to lie down.

If you have a friend or family member that needs to "wind down", I highly suggest surprising them with a Yantra Mat this holiday season, and while you are at it, pick one up for yourself as well! Follow Yantra Mat on Twitter and Facebook for the latest information.

Disclosure:

The product(s) provided for the review were sent to me free of charge from the company or the PR agency. I did not receive monetary compensation for this review. The opinions expressed are 100% my own.