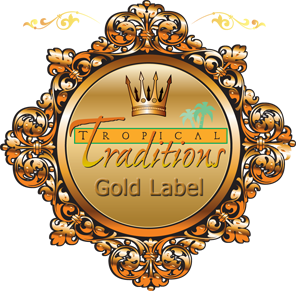 As you know, I love trying new items so when
Tropical Traditions
offered to send me some of their coconut oil to review, I jumped on the opportunity. I have heard many good things about Tropical Traditions coconut oil, but had not tried it before this review.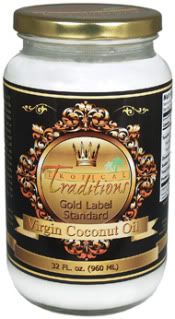 Things I love about Tropical Traditions Gold Label Virgin Coconut Oil:
* It is certified organic according to USDA standards.
* It is a versatile product, you can use it for cooking and also as a beauty treatment (excellent product for dry scalp)
* It smells great!
* It has a long shelf life due to the high antioxidant properties.
* It is rich in lauric acid, a nutrient that supports the body's immune system.
From the website:
How We Discovered this Unique Oil
When I first read about the wonderful benefits of coconut oil, I asked my wife Marianita, who grew up on a coconut plantation in the Philippines, if there was a more natural way to extract the oil from the coconut, so that we didn't have to buy the refined coconut oils found in all the stores in the Philippines. She said there was a method the older generation used to extract the oil by grating the fresh coconut, extracting the coconut milk, and then letting the coconut milk stand in a covered container for about 24 hours. After about 24 hours, the oil naturally separates from the water producing a crystal clear oil that retains the full scent and taste of coconuts. So we started making our coconut oil that way and using it for our cooking needs with our three children. We couldn't believe how wonderful it tasted, and how great we felt. We had been living on Mt. Banahaw in the Philippines for almost two years by that time, and in the year 2000 telephone service was provided to our rural farming community, allowing me to put up a website about our Philippine Herbs. I decided to also put our Virgin Coconut Oil up on the website, not really expecting people to order it because it was a bit expensive since we had to hire people to make the oil, and shipping cost a lot because of the weight. We were so surprised when people started ordering, and then re-ordering it because they felt so great after using it! They told us there was no other coconut oil like it on the market. (See a sample of
testimonies
below.)
Before long we had businesses contacting us asking how to order it in bulk. So we discussed how we could mass produce this kind of oil, and almost abandoned the product because we didn't want to lose the traditional way of making it. In the end, we decided to just keep making it the same way, by having others in our coconut community also make the oil the traditional way. Many of our producers are in areas so remote, that if they did not use their coconuts to produce Virgin Coconut oil for us, no one would buy their coconuts because it would cost too much to transport them to manufacturing plants. In these areas, the coconuts generally just fell to the ground unused until we started training people to make our Virgin Coconut Oil. We were the first ones to export Virgin Coconut Oil from the Philippines to the US market. The success overwhelmed us.
Today, more than 9 years later, there are other companies now selling coconut oil again in the US, most of them mass-produced by machines from dried coconut. But we are committed to time-honored traditional practices that have produced healthy coconut oil for hundreds, if not thousands of years. Our Gold Label Virgin Coconut Oil is still produced by hand, using the wet-milling process of extracting the oil from fresh coconuts. Our producers have learned a lot of things over the years, since most of them have been producing this oil for over 9 years now. They have learned how to pick out the best coconuts from each harvest that produce the best quality oil, for example.
Independent laboratory analysis
shows this to be one of the highest quality coconut oils on the market, having the
highest levels of antioxidants
. This enhanced Virgin Coconut Oil is now in the US market under the Tropical Traditions Gold Label brand. It meets our strictest standards to earn this designation. Today when you buy Tropical Traditions Gold Label Virgin Coconut Oil, you are buying the highest quality coconut oil we have to offer, and it is still made by hand and benefiting families in the rural areas of the Philippines where the coconuts grow.
Brian Shilhavy, Founder, Tropical Traditions, Inc.
How is This Oil Used?
Virgin Coconut Oil is a food, and is one of the best cooking oils you can use. It has been a staple cooking oil for thousands of years in tropical climates. As a cooking oil, its chemical structure is kept in tact and therefore is resistant to mutations of fatty acid chains even when used in higher cooking temperatures, unlike most vegetable oils. Research shows that the medium chain fatty acids found in coconut oil boosts the body's metabolism, raises body temperatures, and helps provide greater energy which can lead to weight loss. For hundreds of tasty recipes from people who use coconut oil, visit
FreeCoconutRecipes.com
.
The generous folks at Tropical Traditions have offered to give one lucky One Haute Mommy readers the chance to win their very own jar of Gold Label Virgin Coconut Oil. Can't wait? Get it now, visit
Tropical Traditions
and order a quart for $29.50 (usually $40.00).
Disclosure: Tropical Traditions provided me with a free sample of this product to review, and I was under no obligation to review it if I so chose. Nor was I under any obligation to write a positive review or sponsor a product giveaway in return for the free product.