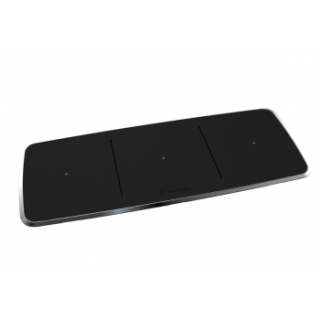 When Powermat offered to send me the Powermat to review, I was ecstatic. I have heard many wonderful things about the Powermat and couldn't wait to try it out.
The Powermat is an amazing device that can charge up to 3 devices at one time wirelessly. I received the
Powermat 3X Mat
(retails for $79.99), the
Powermat Powercube
(retails for $39.99), and the
Powermat Receiver Case
for Ipod Touch (retails for $39.99). These products are wonderful and Powermat offers bundled solutions so you can save money! Visit
here
to view the bundled solutions!
I absolutely love the Powermat! It has eliminated the mass of chords that used to clutter my bedroom. I now just use the Powermat to charge my cell phone, my fiances cell phone, and our iPods. The Powermat charges just as fast (if not faster) than typical chargers. The Powermat not only eliminated chords, but it also conserves energy. It automatically stops charging once the device is fully charged, unlike typical phone and iPod chargers. The Powermat also has different adapters for almost every cell phone!
How does it work? (from the website)
The Powermat Wireless Charging System provides a simple, fast and efficient way to keep all of your favorite personal electronic devices charged. Enabling your devices with Powermat Receivers allows you to Drop and Charge them on any Powermat Mat to experience wireless charging. A magnetic attraction between every Receiver and each access point on every Mat assures that alignment is precise and the most efficient charging will occur. Communication between the Mat and the Receiver allows the mat to deliver an exact amount of power for the proper length of time so that the transfer of power is safe and efficient and no energy is ever wasted. A unique sound tells you that a solid connection has been made and your device is charging. A second, similar sound is heard when the device is removed. Each access point has a corresponding light indicator that informs you that wireless charging is occurring. When a device reaches full charge, power is shut off to that device. This not only saves energy, but it also prevents overcharging of the device's battery, which can shorten battery life. Once full power is achieved and the Auto Shut Off has occurred to save energy and avoid overcharging the device's battery, the system will monitor the status of the battery.
Pick up your very own Powermat
here
and eliminate mass quantities of chords and save energy!