I recently saw that
Nailene
was looking for bloggers to review their products so I jumped on the opportunity. I love painting and decorating my nails so this was "right up my alley!"
First and foremost, I was very impressed with Nailene's PR, she was extremely friendly and the products shipped incredibly faster than I expected. I was sent tracking information throughout the process and the items arrived in an adorable Nailene gift bag with tissue and all. I strongly believe that customer service proves how reliable a company is and I am very impressed with Nailene's customer service! Nailene offers a satisfaction guarantee on all of their products, if you are not satisfied, simply send the unused portion and sales receipt to them and they will take care of you. You won't be sending them back though, you will love their products! Now, let's get down to business!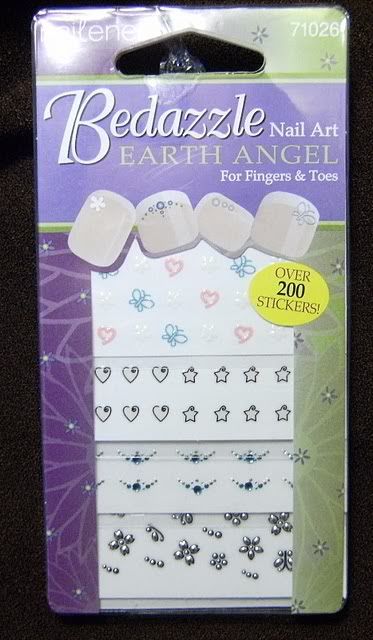 I received Nail Art decals (Earth Angel design) and love them! This pack includes a variety of over 200 decals in all different designs and sizes. They are super easy to apply and last a while. All you do is stick them on your nails and you have designed nails in a snap! These look adorable on fingers and toes! I recommend applying a clear top coat over your nails after applying the decals for maximum durability!
I received two sets of full cover nails. The first, from the "So Natural" line, are french manicure style (my personal favorite nail look). These nails feature "no chip tips" and are guaranteed 3x longer wear, more comfort, and more natural. I was very impressed with the quality of these nails, they do not feel like "store bought" nails. The second set I received are from the 'Nail Studio" line and are designed nails. These are absolutely beautiful and the designs are flawless. They are comparable to airbrushed nails from the salon at a fraction of the cost. The thing I love about these nails, is that they are so easy to apply and the glue is very durable!
My favorite item received is the Nailene French Tip Pen. I love the look of a french manicure and hate the time is usually takes to create the look at home. This is great for anyone who wants to do a french manicure at home in a timely manner. I recommend purchasing Nailene Perfect tips and toes along with this kit for best results! I love this kit because unlike many others, it includes a clear top coat. Most companies include a "dingy" looking top coat, but not Nailene! The pearl white french tip pen is easy to use, just shake it until it is saturated with polish and apply two coats to the tips of your nails. Allow the tips to dry and apply one to two coats of Nailene's top coat over the entire nail and "wa-laa" you now have a beautiful french manicure at a fraction of the cost!
"Nails that fit your lifestyle" is Nailene's motto and it is true! They offer a wide variety of products with a money back guarantee. These products are sold all over and are affordable. Visit
www.nailene.com
to view their products!