My kitchen is hideous. Yes, it is. The countertops and back-splash are white and stained, the cabinet doors are spray painted black, and the kitchen itself is a really dull yellow. The kitchen was like this when we bought the house. My family cannot afford to do a full remodel our kitchen, so we decided to give it a makeover.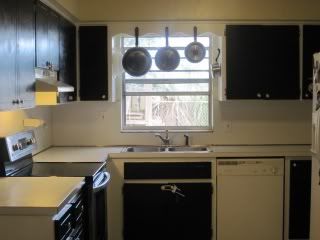 Giani granite countertop paint
is a wallet-friendly way to re-do your countertops and back-splashes. When they contacted me to do a review, I was thrilled. We chose the Bombay Black color and painted our countertop and back-splash in our kitchen.
Features
* Unique blend of polymers and minerals create a countertop that locks out moisture - while showing off the beauty of exotic black granite!
* Great for upgrading Formica*laminate, Corian*ceramic tile, butcher block, cultured marble and traditional granite countertops and vanities
* Covers 35 square feet or 16 running feet of standard 24" wide counters
* Quick, fun and easy 'paint-by-number' process for beginning painters
* Project time - 4 hours of painting and 16 hours of drying
* Water-based safe and low odor
* Hides any existing stains, scratches or burns
* Granite color is adjustable to your decor
* Durable automotive grade clear polyurethane topcoat
* 100% Satisfaction Guarantee
* Complete Kit -
-12 Oz. of IronCoreTM Primer-Base Coat
- 6 Oz. of Pearl Mica Mineral
- 6 Oz. of Black Onyx Mineral
- 4 Oz. of Bronze Mineral
- 16 Oz. of Automotive Polyurethane Topcoat
- 6" GIANITM roller arm and two roller pads
- 4" GIANITM granite paint sponge
- 2" Foam Brush
- Black Practice Poster Board
- 'Paint-by-Number' DVD for beginners
- Illustrated Instructions
How does the product work?
Before starting you will need to:
*clean your countertops (about 3 times) with a degreaser.
*tape off the edges (painter tape is recommended)
Step 1: Apply a thin coat of the primer to the entire area and allow to dry for a minimum of four hours (we let it dry overnight)
Step 2: Cut your sponge and begin sponging on the colors in two feet sections. All of the products are labeled which makes the project go very smooth. You will sponge on three colors, one at a time. Continue this process until you receive your desired look.
Step 3: Apply the sealer. We applied two coats of the sealer (you can do a maximum of three coats).
Giani Granite
offers countertop painting kits in a wide variety of
colors
:
*Sicilian Sand
*Chocolate Brown
*Bombay Black
*Roma Red
*Sapphire Blue
*Emerald Green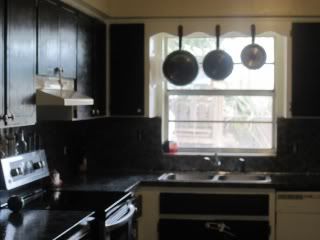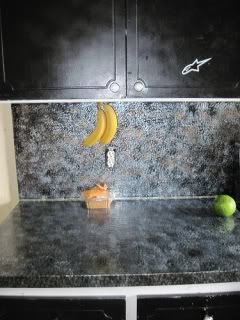 We thought the
Giani
granite paint worked great, we didn't have any issues with the application process. I have had it on my countertops for a month now and have not had any problems whatsoever. Next, we will be painting our cabinets and cabinet doors. Then we will paint the kitchen! I love the new countertops and have received compliments from everyone who comes over.
The generous folks at Giani Granite have offered one lucky One Haute Mommy reader the chance to win a Giani Granite countertop painting kit in their choice of color. Can't wait? Buy it now. Giani Granite countertop painting kits sell for $69.95 and can be purchased
here
.

MANATORY ENTRY:
(Must be completed first or other entries with be void)
Follow this blog publicly via Google Friend Connect AND tell me what you dislike about your kitchen the most.
EXTRA ENTRIES:
(Leave a separate comment for each extra entry)
Follow
@GianiGranite101
on Twitter. (Leave your Twitter handle)
Follow
@OneHauteMommy
on Twitter. (Leave your Twitter handle)
"Like"
Giani Granite
on Facebook. (Leave your Facebook handle)
"Like"
One Haute Mommy
on Facebook. (Leave your Facebook handle)
Visit
Giani Granite
and tell me the color you would choose if you won.
Subscribe via email (2 extra entries)
Subscribe via RSS (2 extra entries)
Blog about this giveaway (5 extra entries)
Grab my button and post link so I can verify (2 extra entries)
Tweet about this giveaway (Can be tweeted 3x a day, 1 extra entry per tweet, must leave permalink to each tweet)
Can't afford Granite Countertops? #Win the next best thing from
@GianiGranite101 & @OneHauteMommy
http://bit.ly/gm093I #contest #giveaway
Thank you Giani Granite!
Open to residents of US only. Giveaway begins now and will end April 2nd at 11:59 p.m. EST. Winner will be chosen via Random.org and will have 72 hours to respond to the winning email notification before another winner is chosen. Entries that do not adhere to the rules will be disqualified and a new winner will be chosen. Good Luck!
Disclosure:
The product(s) provided for the review were sent to me free of charge from the company or the PR agency. I did not receive monetary compensation for this review. The opinions expressed are 100% my own.